ES2 Electronic Press Kit
On this page you can find all press materials related to Erick Storckman and Eliot King Smith's group, ES2.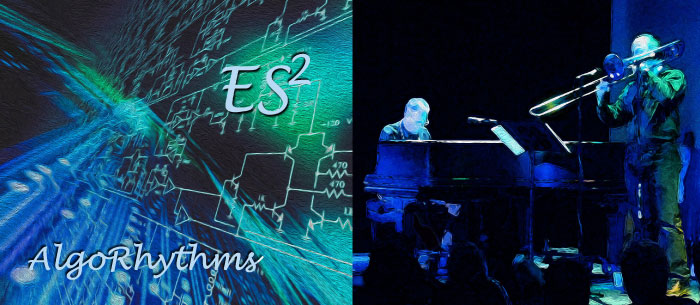 DOWNLOAD ES2 ELECTRONIC PRESS KIT
INDIVIDUAL DOWNLOADS
ES2 Press Release
ES2 One Sheet
ES2 CD Artwork
Sample Audio Tracks
---
VIDEOS
---
SAMPLE AUDIO TRACKS
Orange Peel

Job Search

Poor as Food

Swanky Goes Shopping

Our Man in Verona

Midnight, Michigan Avenue

Swanky Goes Uptown

At Long Last

---
FROM THE PRESS
AcousticMusic.com | 2014
(Review by Mark Tucker)
ES2 is signatory of trombonist Erick Storckman and keyboard player Eliot King Smith, each of whose initials, ES, are therein squared, and who have a pronounced liking for the dignified funk side of the house. Dignified funk? Is there such a thing? There is now. It's definitely funk but sports an uptown NYC patina even when tear-it-up guitarist Pete McCann jumps in with both feet, soloing. Thus, if ya wanna think Steps Ahead, Rippingtons, Yellowjackets, Fattburger, 'n that sort of thing, then go ahead, I won't stop ya, but there's a more constant energetically basic jazz factor going on here than with those other ensembles.
Rock, too, as, again, McCann just wails when let loose. Storckman on 'bone and Cliff Lyons on sax pair up for lyrical harmonies when not soloing, and Smith can claim a lot of the ol' Zawinul broad palette colorations as he occupies damn near the entire midground…but Joe by way of Romantic inclinations. My favorite cut? Poor as Food, a showcase for Smith and Storckman (you can never get enough trombone, y'all). I know, I know, I'm nuts about McCann, and he's barely on the track, but, man, the thematic variations and returns there are entrancing, with Scott Neumann hitting the traps first off-kilter metronomically and near the end almost Moon delirious, the band twisting all around the catchy measures. I loves me solos and tons of improv from all involved, I really do, but there's much to be said of a well-crafted ditty that ya hafta hear again and again, and this is one of those beasts. That's why I liked Passport so much.
The engineer's not credited, though the mastering is (Andy VanDette, who perhaps handled both), but it's a very good documentation job, everything perfectly balanced (coulda used a wee bit more mike on Andy Eulau's often hoppin' 'n poppin' bass, tho'), glowing with new jazz light, woven like a main course replete with appetizer, desert, and wine. Too often, this ilk of sonics suffers from too thin an inter-discourse element, but Algorhythms is rich and seasoned, tasty. Everyone is fully committed and lovin' the gig, but damn, man, that McCann! Lots of Chuck Loeb and outta control Lee Ritenour in him, so, next time, guys, more o' dat, please!
---
rotcodzzaj.com | 2014
(If what) you're thirsting after (in your jazz) involves RED-hot fun…. this CD will "get you there"! Just check out the smokin' "Job Search" to get an idea of why I say that! Eliot's keyboards, to include some fantastic organ work, join Erick's totally blissed-out trombone to orbit you off into the ether – whether you're out of a job or not! This is some of the most enjoyable jazz I've heard (yet) this year, & I'm going to ask the promoter to make SURE I get all their future work together. Of the 8 tunes offered up, I found the jumpin' "Midnight On Michigan Avenue" to be my absolute favorite… cool, slinky jazz, to be sure, that gets a MOST HIGHLY RECOMMENDED from this reviewer, with an "EQ" (energy quotient) rating of 4.99! Get more information about these great & highly talented players at Erick's website.
---
BlogCritics.org | 2014
(Review by Jack Goodstein)
ES2 is a jazz sextet led by keyboardist Eliot Smith and trombonist Erick Storckman—get it, ES squared. Now while I like clever word play as much as the next guy, what I want from a new jazz disc is good music. Happily, Smith, Storckman and their cohorts have loaded their new album, AlgoRhythms (more clever word play) with more than enough of the good stuff to keep the snarky among us from cringing at the cutesy language.
Working with original compositions by either Smith or Storckman or the two in combination, the sextet takes a varied journey through a broad sector of the jazz spectrum. Both composers start with memorable melodies and arrangements that give them and their talented crew plenty of opportunity for inventive solo work, opportunities they take full advantage of. From the opening number, "Orange Peel" with strong solo work from Storckman, as well as saxophonist Cliff Lyons and Pete McCann on guitar, to the gospel-driven closer, "At Long Last," with Storckman taking the lead for Lyons to join in, the ensemble delivers the goods.
While I am tempted to say they save the best for last, there is too much fine music throughout for that to be entirely true. There are those that will find the lightly Latin-rhythmed "Poor as Food" more to their taste, and those who will prefer McCann's twangy talking guitar work on the groovy "Swanky Goes Shopping."
There are those who will like the funky vibe of "Job Search," although I, for one, would get rid of the opening spoken work intro and the ambient city noise. "Our Man in Verona" has an infectious melody and the solos are dynamic and powerful.
"Midnight, Michigan Avenue" is introduced by drummer Scott Neumann, who continues along with Smith's electric piano and the electric bass of Andy Eulau to lay a solid foundation for this bop excursion. In other words, there is something on the album for many different tastes.
AlgoRhythms is a solid piece of work, the kind of album that deserves some attention.