Projects
Here are some of Erick's current projects:
Commission for Northern Dutchess Symphony
I recently had the honor and pleasure to write two arrangements of George Gershwin tunes for the Northern Dutchess Symphony Orchestra, conducted by Kathleen Beckmann. We performed the pieces on the orchestra's annual pops concert on June 14, 2014 in Rhinebeck, NY. The concert was an all-Gershwin program, and I had the additional pleasure of performing as the soloist on the gorgeous arrangement of Someone To Watch Over Me by the great Calvin Custer. Many thanks to Kathleen Beckmann and the members of the NDSO, and thanks as well to my fellow soloist on the program, pianist Peter Muir. I hope you enjoy the recordings!
S'Wonderful/Lady Be Good Medley (Gershwin, arr. Erick Storckman)

Soon (Gershwin, arr. Erick Storckman)

Someone To Watch Over Me (Gershwin, arr. Calvin Custer)

VIDEO: Soon (Gershwin, arr. Erick Storckman)

---
The Erick Storckman Nonet
Arrangements and original compositions by Erick Storckman.
Below are recordings of the Erick Storckman Nonet, Live at Trumpets, September 12, 2012.
Vinnie Cutro – Trumpet
Erick Storckman – trombone
Cliff Lyons – Alto
Marty Fogel – Tenor and clarinet
Barbara Cifelli – Bari Sax and Bass Clarinet
Bob Devos – Guitar
Mitch Schechter – Piano
Andy Eulau – Bass
Scott Neumann – Drums
Midnight Michigan Avenue

Job Search

The Golden Boy

Orange Peel

Angel Eyes

At Long Last

All Hail the Queen

---
ES2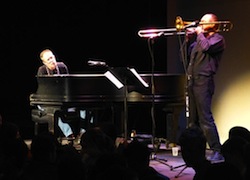 A new six piece group featuring music by Erick and pianist Eliot Smith. Joining them on their upcoming album release are Pete McCann on Guitar, Cliff Lyons on Tenor Sax, Andy Eulau on Bass and Scott Neumann on drums.
Below are recordings from a live performance given by duo Eliot Smith/Erick Storckman on the campus of Hackley School in Tarrytown. The compositions on these recordings are by Eliot Smith, all of which will be featured with a full band on the new album ES2, which will be released this fall.
Orange Peel

Job Search

Midnight Michigan Avenue

Swanky Goes Uptown

---
Diane Moser's Composer's Big Band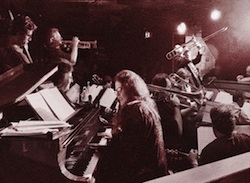 Follow the band and check out recordings and videos at dianemosermusic.com
---
Beat Brigade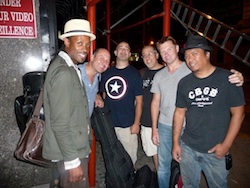 NYC Ska! New album due to be released soon! Keep checking in! Follow the band on Facebook.