Biography
Erick Storckman is a NYC-based trombonist and composer/arranger whose music displays influences from a wide range of styles and has been described as deeply personal.  He has released three albums as a leader or co-leader. His most recent release was with a project named "ES2", co-lead with composer/keyboardist Eliot Smith . That band's album release is entitled AlgoRhythms. Erick's two other album releases as a leader (Scrapbook and Chuckle Factor) feature Erick's tunes arranged for a seven-piece band.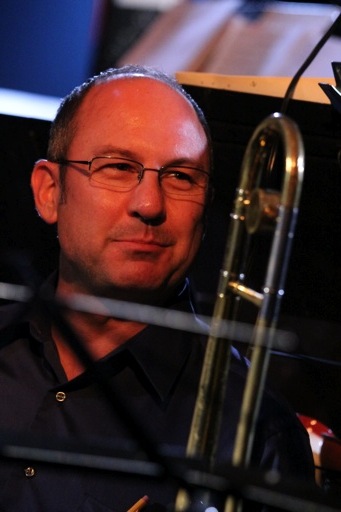 Erick is the lead trombonist and a featured composer with Diane Moser's Composers Big Band, is the lead trombonist for The Joe Elefante Big Band, is a member of Jens Wendelboe's Nordic Sound Big Band, Willie Dalton's The Real Deal Big Band, and The One More Once Big Band.  Erick is also the trombonist and horn arranger for the NYC -based band Beat Brigade, whose recent album is entitled Kings.  Erick has written horn arrangements for various recording artists, including the great ska-band The Toasters, with whom he recorded and toured for several years. He has written arrangements for many NYC area big bands and regional orchestras, and has been a guest soloist and clinician for numerous bands, orchestras and schools across the country.
Erick's recent sideman recordings include the Grammy-Nominated release by Papo Vazquez and The Mighty Pirate Orchestra, Marooned/Aislado, Scott Grimaldi's release The Color of Midnight, and Willie Dalton's The Real Deal Big Band.
A veteran and prolific freelancer, Erick has appeared as a sideman on dozens of albums by a variety of artists, has recorded for feature films and television, has played in numerous Broadway and Off-Broadway pit orchestras, and has performed with scores of many well-known entertainers and bands.
For booking please contact Erick directly at:
646-391-4707
Erick@ErickStorckman.com